History of our Circus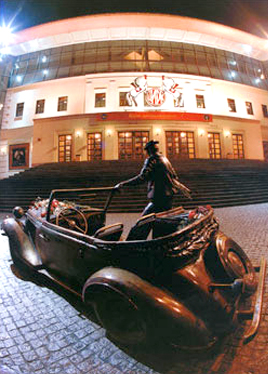 The Old Moscow Circus on Tsvetnoy Boulevard is one of the oldest circuses in Russia. The former rider and gymnast Albert Salamonski established the permanent brick building for the circus on Tsvetnoy Boulevard in Moscow in 1880. On the 20th of October 1880 the circus was opened with five rows of seats, box seats, a dress circle, wooden unnumbered benches and a standing gallery . In 1884, brick stalls were built and, in 1889 a swimming pool was added. Albert Salamonski, himself a remarkable rider, found and attracted to the circus the best horse acts as well as other phenomenal acts from all over the world. At that time the circus began to expand its repertoire with elaborate pantomimes and special performances for children.
In 1919 the Circus was nationalized in accordance with a decree from Lenin becoming the first Moscow State Circus. During World War II (1941-1945) the circus ran uninterrupted. New performances were produced including special stunts which enacted military hostilities. The audience was entertained by motor-cyclists, horse fighting and acrobatic clown scenes of two German soldiers. In the finale a real tank drove into the ring and crushed hostile pill-boxes. The brilliant clown Karandash mimicked fascist warriors. Soon after the War ended, the Circus on Tsvetnoy Boulevard formed a production company. New acts and theme performances were created. The Chief Artistic Director M. Mestetchkin and the talented Manager A. Assanov contributed greatly to the Circus. In 1946 the Clown Studio was introduced. The best clowns of the russian circus, including Yury Nikulin, graduated from there. Starting in 1960 Yury Nikulin performed for many years as a clown. In 1983, Yury Nikulin was named the Chief Producer of the Old Moscow Circus. The last performance in the old building of the Circus took place on the 13th of September, 1985. It was a very emotional event for everyone.
A new building was built on the old site. The interior of the new building included modern technical equipment, new offices, dressing rooms and stalls for the animals. The foyer was remodeled into the elegant and beautiful structure we see today. The hall, with minor changes, was restored to its original pre-reconstruction state. Several years later, on the 29th of September, 1989 the program "Hello, Old Circus!" produced by V. Krymko and N. Makovskaya was the first performance in the new building. Today, the Old Moscow Circus can accommodate more than 2 000 spectators.
Go back