MAXIM YURIEVICH NIKULIN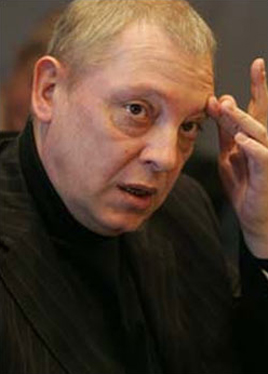 The CEO and the Artistic Director, Nikulin Moscow Circus on Tsvetnoy Boulevard.
Graduated from the Faculty of Journalism at Moscow State University (MGU), 1980.
Maxim Nikulin has previously held positions at leading companies such as Moscow Komsomolets Newspaper, Radio Mayak and ORT TV-channel.
For a considerable period, Maxim Nikulin hosted one of the most popular TV program, "Dobroye Utro" at the State TV, Channel 1. Maxim Nikulin was appreciated for picking interesting topics, his professionalism and the ability to create a dialog with his guests, as well as his sense of humor.
In 1993 Maxim Nikulin was offered by his father, Yuri Vladimirovich Nikulin, the position as the Managing Director of Moscow Circus on Tsvetnoy Boulevard. Maxim Nikulin was in charge of all administrative work of the circus. As a Business Development Director Maxim monitored all internal and international projects of the circus.
In 1997, together with his father, Yuri Nikulin, Maxim Nikulin created the charity foundation «The Circus and the Charity". Which among other things, aims to help disabled artists, circus veterans, as well as young and talented artists.
From the start until the present Maxim Nikulin has been the permanent curator of the foundation, who constantly renders it various kind of assistance, including the financial one.
After the decease of Yuri V. Nikulin in August 1997, Maxim Nikulin was solidly elected the CEO of the Moscow Circus on Tsvetnoy Boulevard.
He is the Head of the Artistic Board of Nikulin Moscow circus.
Maxim Y. Nikulin initiated and took the active part in creation of "Tsvetnoy 13" TV studio. The studio produced "My Circus" TV program, which was broadcasted on the Culture TV channel, Russian TV, twice a month during five years. Maxim Nikulin was its founder, author and the permanent presenter. Later Maxim Nikulin was the author and the presenter of "Forgang" TV program (TV Channel 1, Russian TV). The program was also devoted to the circus and was on the TV Channel 1 for several years.
Maxim Nikulin is also the Member of the Board of the Creative Union of Circus Artists of Russia, the Academician of the National Academy of the Circus Art, Commander and Cavalier of the Order of the Commander's Cross of the Belgium Royal Society in support of innovations and inventions.
Go back